Payment Choices
Joining or renewing your membership could not be easier, using our online service.

NEW MEMBER? Select an option below.
•JOINING ONLINE CLICK HERE
•JOINING BY POST CLICK HERE

RENEWING? Select an option below
•RENEWING ONLINE CLICK HERE
•RENEWAL BY POST CLICK HERE
A dedicated club for the Rover P5 (3 litre straight six) and the P5B (3.5 litre V8) models, in saloon or coupe form, produced between 1958 and 1973.
Take Five is the clubs own full colour bi-monthly magazine
The magazine is a 32 page, A4 glossy with news, views, reports & technical information.
CLICK HERE
Take Five is the most up to date and informative magazine specifically for the P5 and P5B marque.
ADVERTISE in Take Five E: Advertising Sales
EDITOR Take Five E: Editor
Special offers to Rover P5 Club members on selected parts
Some of those hard to find parts at special discounted prices.
• Discount offers From specialist suppliers including polishes, covers, shocks clutches, fuel systems, and Rostyle wheels.
BRISTOL & WILTSHIRE
John Stacey
T: 01225 743555
E: bertiep5ds@yahoo.co.uk
• The Cross Hands Hotel,
Old Sodbury, A 36, 1 mile north of junction 18 M4 .
Occasional extra meeting at Brent Knoll.
Last TUESDAY of the month.
CAMBRIDGESHIRE
Dave Cole
T:01354 742689
E:kmcg@hotmail.com



CORNWALL
Geoff Arthur
T 01726 813773
E: w.g.arthur@btinternet.com
• Joint events with Devon during the summer.
DEVON
• Colin Newton
T: 01392 218655 E: curly.newton@btinternet.com
• The Blue Ball, Clyst Road, Clyst St. Mary, Exeter, Devon.
If attending and require food, please call 01392 218655.
Third TUESDAY of the month from 12 noon.
DORSET & SOMERSET
H. K. "Chuck" Berry
T: 01747 811625
E: chuck@hkb.co.uk
• Horton Inn, Horton Road, Wimborne, Dorset, BH21 5AD
Meet with the P4DG.
First MONDAY of the month.
EASTERN
David Green
T:01284 788269
E:green.david10@sky.com
• The Fox Public House, Bury St. Edmunds.
Third WEDNESDAY of the month.
HAMPSHIRE
Paul McKay
T: 02380 321687
E: paul-mckay@live.com
• White Swan, Mansbridge Rd, Southampton SO18 3HW.
Second FRIDAY of the month.
HERTFORDSHIRE
Peter Madden
T:01582 832972
E:treasurer@roverp5club.org.uk
HOME COUNTIES
• The Ely, London Road (A30), Camberley, Surrey, GU17 9LJ.
First TUESDAY of the month.

KENT
• Four Lymes, Hawley Rd, Dartford, DA1 1PX.
3 miles from M25 J1B & the A2 Dartford Heath Exit.
Last WEDNESDAY of month.
LONDON & SURREY
Pat McCoy
T: 078281 70348 E: patmccoy1@hotmail.com
• OCT-MARCH Silvermere Golf Club, Cobham KT11 1EF
• APRIL-SEPT at Brooklands Museum.
Second TUESDAY of each month.
MIDLANDS SOUTH
Terry McGuire
T: 0121 770 3493
E: terryvoltbike@gmail.com
• Cheyney Arms, Rearsby Lane, Melton Mowbray LE7 4XE.
Second TUESDAY of month from 6pm.
MIDLANDS (NORTH)
• Greg Mabbott
T: 0115 966 5174
E: gregmabbott@btinternet.com
NORFOLK
Peter Cane
T: 01508 470575
• Caistor Hall Hotel, Stoke Road, Caistor St. Edmund, Norwich, NR14 8QN.
Last TUESDAY of the month.
NORTHAMPTONSHIRE
Mel Newton
T:01604 407139
E:mel-newton@talk21.com
• The Overstone Arms, Pytchley, Kettering. NN14 1EU
First TUESDAY of the month.
NORTH WEST
Peter Collins
T: 01744 735147
E: p5pete@blueyonder.co.uk



SCOTLAND
Trevor Colebrook
T:01324 714406
E:p5tgc@aol.com


SCOTLAND (Clydebank)
Tom Willson
T:01389 874792
E:tmj.wilson@virgin.net
P6 Rep Glasgow area welcomes P5 Club
• West Park Hotel, Great Western Rd, Clydebank.
First WEDNESDAY of the month.
SUSSEX
Ray Pickett
T:01903 208604
E:picketts@ntlworld.com
• Plough Inn, London Road, Pyecombe BN45 7FN.
Second WEDNESDAY of the month.


WALES (NORTH)
Glyn Davies
T:01244 543978 E:glyn-123@hotmail.co.uk
• The Wheatsheaf in Mollington on the A540 Chester/Hoylake Road.
Second WEDNESDAY of the month at approx 8-00pm.


WALES (SOUTH)
Eddie Halling
T: 01269 592926
E: register@roverp5club.org.uk
YORKSHIRE
Ken Pick
T: 0770 697 9552
E: onepick@outlook.com
OTHER MEETS
READING, HOME COUNTIES
James Taylor
T: 01491 201580.
• The Highwayman in Exlade Street, near Checkendon.
First THURSDAY of the month.
OTHER MEETS
P6 Owners Club - Hull & East Yorkshire Region.
Philip Robson on T:01377 241324.
• Tiger Inn. Lairgate, Beverley.
Third WEDNESDAY of the month
P6 Owners Club
Philip Robson
T: 01377 241324.
• Tiger Inn. Lairgate, Beverley.
Third WEDNESDAY of the month.
The Yorkshire Rover Club
Dave Perrins
T: 01274 579949
E perrinsdave@gmail.com
OTHER MEETS
DEVON (North)
• Swan Inn, Bideford, North Devon Sports & Classic Car Club.
Third FRIDAY of month .

OTHER MEETS
East Sussex Rover P5 Club, P4 Drivers Guild, RSR, JRC
All Rover owners welcome
•The Squirrel, North Trade Road, Battle TN33 9LJSecond TUESDAY of the month
OTHER MEETS
HAMPSHIRE, ROVER OWNERS' GROUP
Eric Rice T: 02392 230255
E: eric_rice@btinternet.com
• Seven Stars, 56 Winchester Rd,
Petersfield GU32 3PG 8pm.
First MONDAY of each month.
To find your nearest Rover P5 Club contact and pub meet. click on the nearest RED DOT
to your location. You DO NOT need to be a club member to attend any Rover P5 Club pub meet.
You will however need to be prepared for a warm welcome!
SWEDEN Carl Gustaf Olsson
Hyregatan 4 S-211 21 Malmo, Sweden.
E: cgo@compaqnet.se
HOLLAND John Koster
'S Gravenweg 131 2911 BH NIEUWERKERK AD IJSSEL
E: jmdkoster@planet.nl
AUSTRALIA Warrick Ravell
E: wassarov@tpg.com.au
NEW ZEALAND Adrian Chandler
15b Hollis Place, Brightwater 7022, Nelson, New Zealand.
E:pac1946@hotmail.com
YOUR NEAREST REGIONAL CONTACT AND/OR PUB MEET IS
COMMITTEE
If you have a question on a specific topic, please see which member of committee can help and send an email by clicking on the relevant name - shown in blue
PR OFFICER E: PR-Officer
INSURANCE VALUATION OFFICER & PROMOTIONAL CAR REGISTRAR
Eddie Halling E: Car Register
POSTAL ADDRESS
Membership Secretary
Rover P5 Club
18 Rowans Close
Farnborough
Hampshire GU14 9EJ

Coupe
• Triangular front quarter light
• Roof side panel with simplified Long ship badge
• Rear door quarter light
• Front door locks in the handles
Saloon
• Painted side window surrounds
• Triangular front quarter light
• Rectangular front quarter light
• No rear quarter light
• Separate front door locks below handles
3 litre straight six (P5) saloon
3 litre straight six (P5) coupe
3.5 litre V8 (P5B) saloon
VISUAL DIFFERENCES
The easiest way to differentiate between the models (other than the engine) would be the wheels, which on all P5B's are Rostyles.
Other points to note all of which can be found on the 3.5 litre V8 P5B and not the P5.
• side indicators,
• no hole in the front grille for the starting handle
• rubber strips to the over-riders
• recessed fog lamps added to the front wings
The P5 3 litre had automatic and manual gearboxes, some with overdrive. The P5B V8 only came with a three speed Borg Warner
Type 35 automatic gearbox.
3 litre straight six (P5)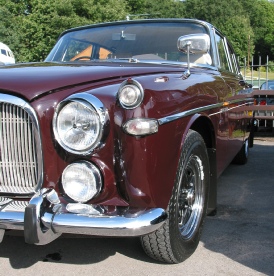 3 litre straight six (P5)
Regional meets You do not have to be a club member to attend any club pub meet or rally. To find your nearest representative CLICK HERE
Local, national, international events and rallies Local & national events, go to our forum. CLICK HERE
Membership options - new rates
CURRENTLY 18 MONTH MEMBERSHIP IN £ STERLING
Valid until April 2020, after which you have the option of annual or three year renewal.
United Kingdom....…..New membership £49 Subsequent years £30.
All Europe.......……….New membership £61 Subsequent years £38.
Rest of the Wold……New membership £67 Subsequent years £42.
THREE YEAR MEMBERSHIP IN £ STERLING
NO joining fee, when you choose one of the following options.
United Kingdom....….New membership £90 Subsequent years £87.
All Europe……………New membership £114 Subsequent years £111.
Rest of the World..…New membership £126 Subsequent years £123.
ASSOCIATE MEMBERSHIP ONLY £1 EXTRA
Available to your partner or a family member. All the benefits, but no extra magazine.
THE CLUB RULES
RULES & REGULATIONS CLICK HERE MEMORANDUM OF ASSOCIATION CLICK HERE